It is always worth finding out what is happening outside our Cambridge bubble. Management likes to try things that other institutions have found success with, and those things are often not in our best interests. Lets take a trip to the UEA
Redundancies!
University of East Anglia Unite branch members are waiting for the outcome of negotiations over redundancies that threaten many jobs following the announcement of a large financial hole.
There is 'cautious optimism' that job losses/savings will be through voluntary severance or voluntary rather than compulsory redundancies.
Frustratingly, UEA management is remaining silent on taking another look at the 11 month deferral of the national pay increase for continuing staff.
So the UEA has mismanaged its pocket money and now wants to claw back some cash by sacking staff, with one hand and not ponying up a negotiated pay rise with the other.
The staff that are left will be overworked and underpaid.
Well done UEA.
Still, never mind it can't happen here, can it…
UEA Again.
Ziggurats Can Damage Your Wealth, (if you are a university)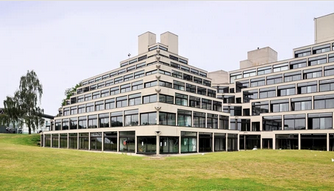 Unfortunately, hot on the heels of the money management crisis, comes investigating the state of Raac (Aero-bar-style concrete) in campus buildings such as the iconic student accommodation known as the Ziggurats – now closed. Around 600 students that were due to take up residence in them need to be found rooms elsewhere.
Well, That's Not Good.
Wonder what brilliant wheeze they will come up with to fix this? going by their record, they will probably force staff to put up students in their homes and charge them for it…
Solidarity with our members at the UEA.