Union Busting Is Disgusting!
Members of our branch and other branches, along with former mayor Robert Dryden demonstrated outside Mott McDonald, A( A firm that does business with Murphy) in protest at the sacking of the Murphy 4.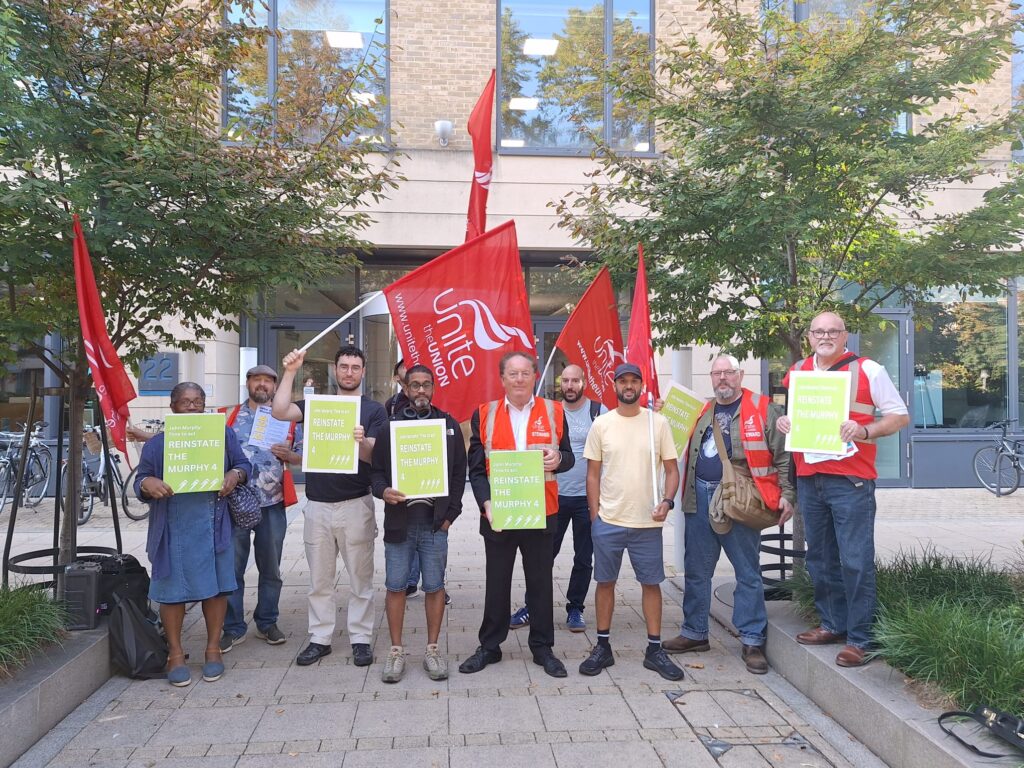 Why Bother?
Members being sacked for union activities, is an attack on all our members. If company gets away with sacking workers for being in a union as is our right, it encourages others to do the same, it could be any of us, it could be any of you!
Solidarity
Solidarity with our members is the point and the power of a union.
Four fitters and welders with 50 years' combined service working for Murphy International Ltd at the Rusal Alumina Plant until being sacked in an act of union busting.
As well as smearing their names with lies about their conduct, Murphy has tried to pay 'the four' off and buy their silence. But they won't give up, and will keep fighting until they get their jobs back.
Who are the union-busting Murphy Group?
Murphy International Limited is the Irish subsidiary of J. Murphy & Sons, a London-based engineering and construction company operating across Ireland, the UK, and Canada.
Revenue of £1.5 billion last year with operating profits doubling to £45.6 million.
Owned by the Murphy family, one of Ireland's richest families estimated to be worth €500 million.
£14 million raked in by the Murphy family in dividends in the last five years through their Folgate Estates' property empire.
Highest paid director pocketed a total salary package of £1.5 million last year.
A history of union-busting and anti-worker behaviour:
In 2015 Murphy Group's Australian business was found guilty of widespread immigration fraud for fraudulently sponsoring Irish labourers' visas. This was done to ensure a "compliant workforce" who would not challenge management out of fear of losing their visas.
In October 2019 Murphy brought expensive High Court proceedings against Unite in an attempt to block industrial action at Aughinish Almunia.
Murphy cut staff pay by 10% during the pandemic, and refused to reveal how much it made through the job retention scheme.
What are Unite's demands:
Reinstate the Murphy 4
No more union busting | Respect Workers' Rights
Comply with Sector Agreements
WHAT CAN I DO?
ACT NOW!
Support the Murphy 4. Email your MP now and help us highlight that construction giants like Murphy's should not be awarded lucrative contracts when it sacks workers without good cause.