Great turnout for the strikes!
See you on November the 1st!
Great turnout for the strikes, Even the rain didn't put our members off.
Solidarity and Donuts!
Loads of support from students and the public, special thanks to the Donut Donor of Downing Street, and a big honk to all the motorists who beeped, and van drivers who didn't cross the picket lines.
Staff at Cambridge University one of the richest institutions in the world, in one of the most expensive cities in the country to live in, have put up with years of below-inflation pay rises.
The value of our pay packet has been eroded, and the goodwill of our members is wearing thin. We all know Cambridge has deep pockets and short arms, but the situation has never been worse.
Due to the poor pay, and expensive housing, recruiting skilled tradespeople, is difficult. Leaving staff overworked as well as underpaid.
Shut Down!
We shut down the Fitz and the exhibitions at the library.
Our rally on the first day was a huge success with members and supporters from the University and the wider community gathering for a rousing singalong.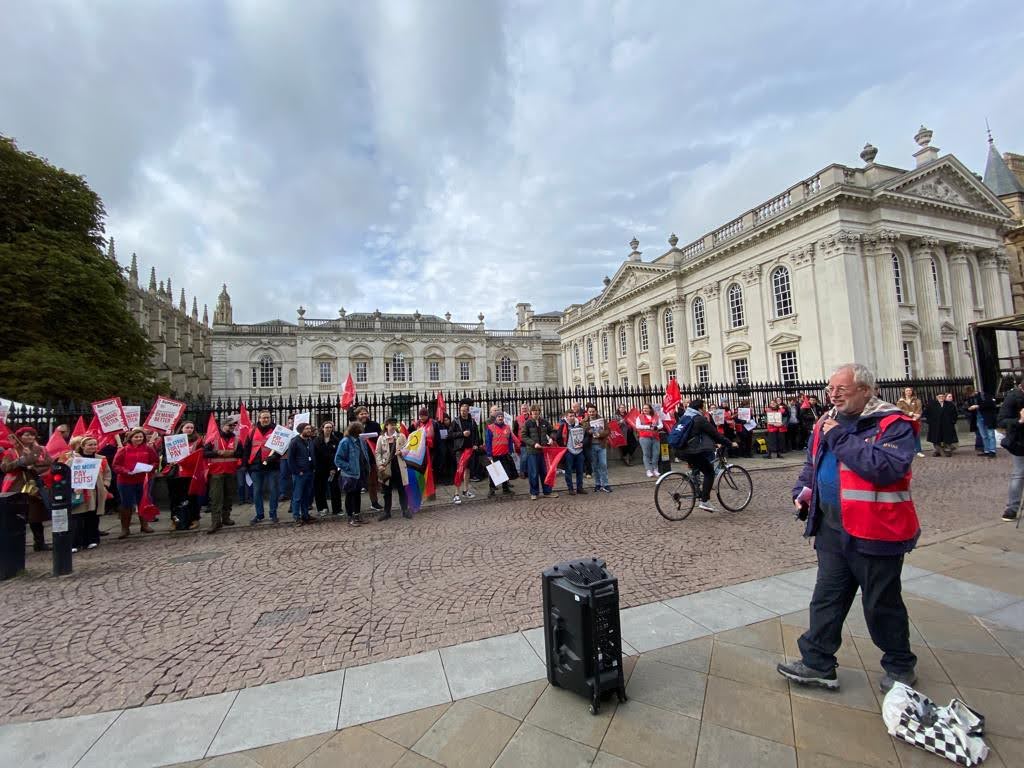 If our demands are not met we will sing more songs next time! We are the Big Noise On Campus!
If the powers that be at Hogwarts in the fen are reading, we will be back and next time we will have a brolly.
Message from our Chair
First and foremost, a massive thanks to everyone who was on strike yesterday and to our members who attended our picket lines and demonstration rally. We had a really strong turnout yesterday, which led to the closures of the Fitzwilliam Museum and exhibits running at the University Library. The rally ended with a rendition of "Solidarity Forever" led by our social media rep Mark Hurn and we truly felt the solidarity from members of the Student Union, Cambridge UCU, Cambridge Defend Education, Cambridge Labour Club, Cambridge University Marxists, Unite and UCU members from Anglia Ruskin, and ARU Student Union who attended rallies and delivered tea and snacks to picketers! We heard short speeches from national officer Andy Murray, County Councillor Mike Black, and more.
See you in November
Dont just sit there!
JOIN UNITE!