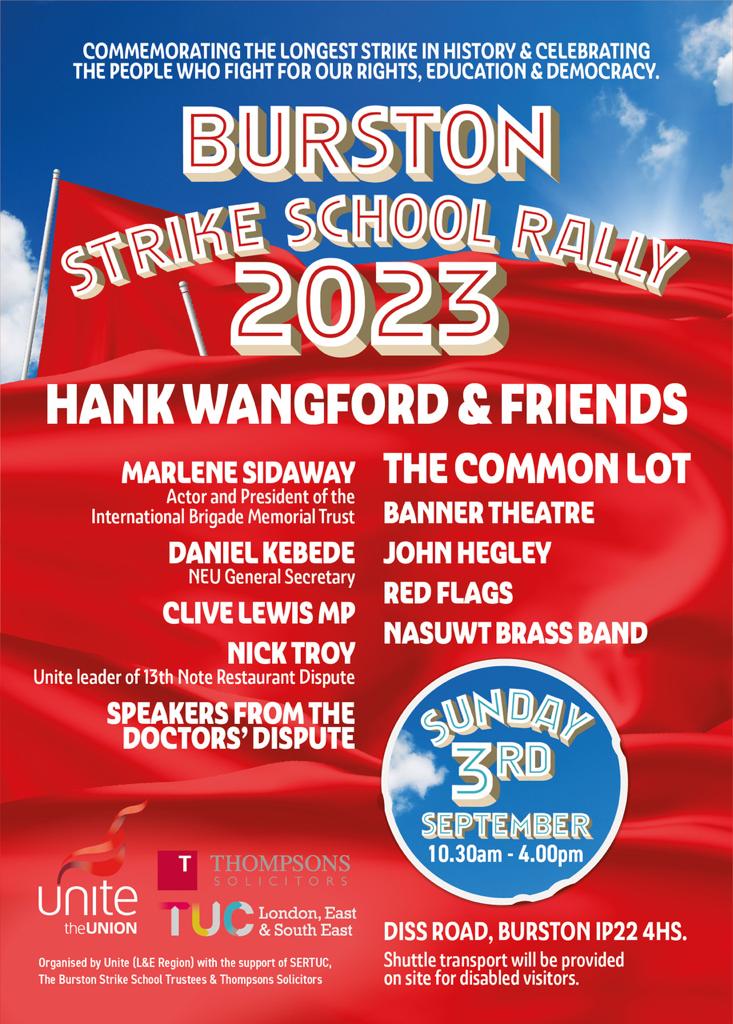 Burston Strike School Rally
Normally held at Church Green, Burston, near Diss, Norfolk
109 years since the school strike
The Burston Strike School was, and remains, a living consequence of what was later to become known as 'the longest strike in history'. During the spring of April 1914, the young pupils at the Burston Village Council School walked out of their school building in protest at the sacking of their beloved teachers Tom and Kitty Higdon, who were being punished by the local gentry and church authorities for Tom's trade union and Socialist views. The strike and boycott lasted for some 25 years.
Since 1984, the Burston Strike School Rally has been an annual event, with the day now being fixed to the first Sunday in September, although the event was scaled down in both 2020 and 2021 due to the COVID-19 crisis. The event is completely funded by trade unions which allows it to be free of any ticketing and charging (except for those wishing to have a campaign stall). Although today the trustees are not exclusively members of Unite, as the inheritor of the 'rural and agricultural tradition' Unite remains the key organiser of the rally.
To find out more visit the Burston Strike School Facebook page of the Burston Strike School website.
"The Burston rebellion was a revolt born in the fields, and fought by those that toiled in them."
---